1 ribeye steak (about 16 oz)
½ lb asparagus, tips removed
½ lb mushrooms (cremini, oyster, chanterelle, pick your favourite!)
1/2 cup Carnivor Cabernet Sauvignon
4 tbsp butter
2 tsp vegetable Oil
2 tsp lemon juice
2 sprigs of thyme
2 garlic cloves
Salt and pepper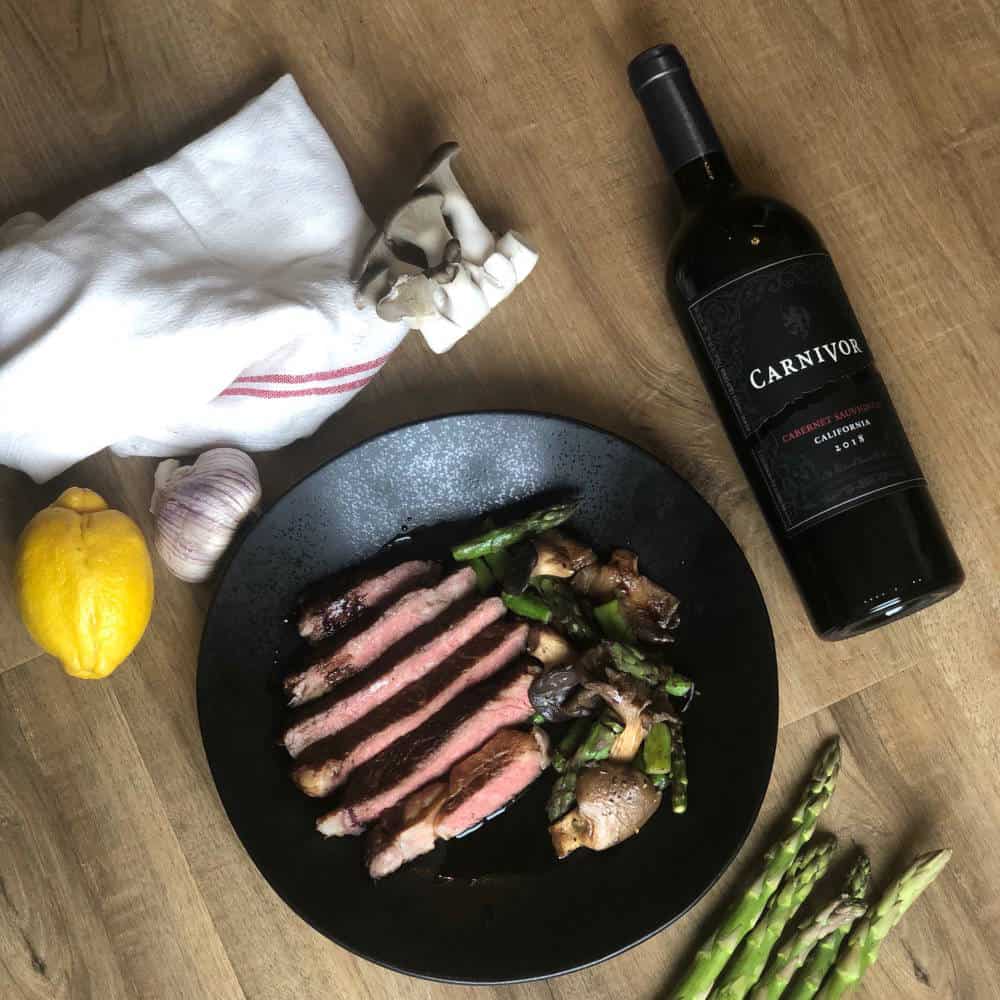 Preheat your oven to 450 °F.
Preheat a cast-iron pan over high heat.
Meanwhile, slice your mushrooms and trim the asparagus into 1″ pieces.
Season ribeye with salt and pepper.
Add vegetable oil to the pan, then gently place the steak in the pan.
Allow to sear for 4 minutes, until golden brown, flip and sear for another 4 minutes.
Add 2 tbsp butter, whole garlic cloves, and thyme to the pan.
Once the butter is melted, use a spoon to baste the steak for 1 minute.
Place the cast-iron pan with the steak in the oven for 5 minutes for a medium rare.
Remove the steak from the oven and place on a cooling rack to rest.
Pour out the butter from the pan, leaving the thyme and garlic.
Place back over medium high heat and add the 1 tbsp butter.
Add the mushrooms and asparagus and sauté for 5 minutes until vegetables are nicely roasted.
Carefully pour in 1/2 cup Carnivor Cabernet Sauvignon.
Allow sauce to reduce by half, about 3 minutes.
Add the butter and lemon juice and stir until a nice sauce forms.
Slice your steak, spoon your vegetables on to a plate, top with the ribeye and drizzle the sauce around the plate.
Enjoy with a glass of Carnivor Cabernet Sauvignon.