2 tablespoons extra-virgin olive oil
2 large red onions, 11⁄2 pounds total, slivered
3 tablespoons granulated sugar
¾ cup Carnivor Zinfandel
2 tablespoons balsamic vinegar
Kosher salt
2½ tablespoons unsalted butter, softened
8 slices rye bread
1½ pounds ground chuck (80% lean)
Freshly ground black pepper
4 ounces Brie cheese, cut into 8 slices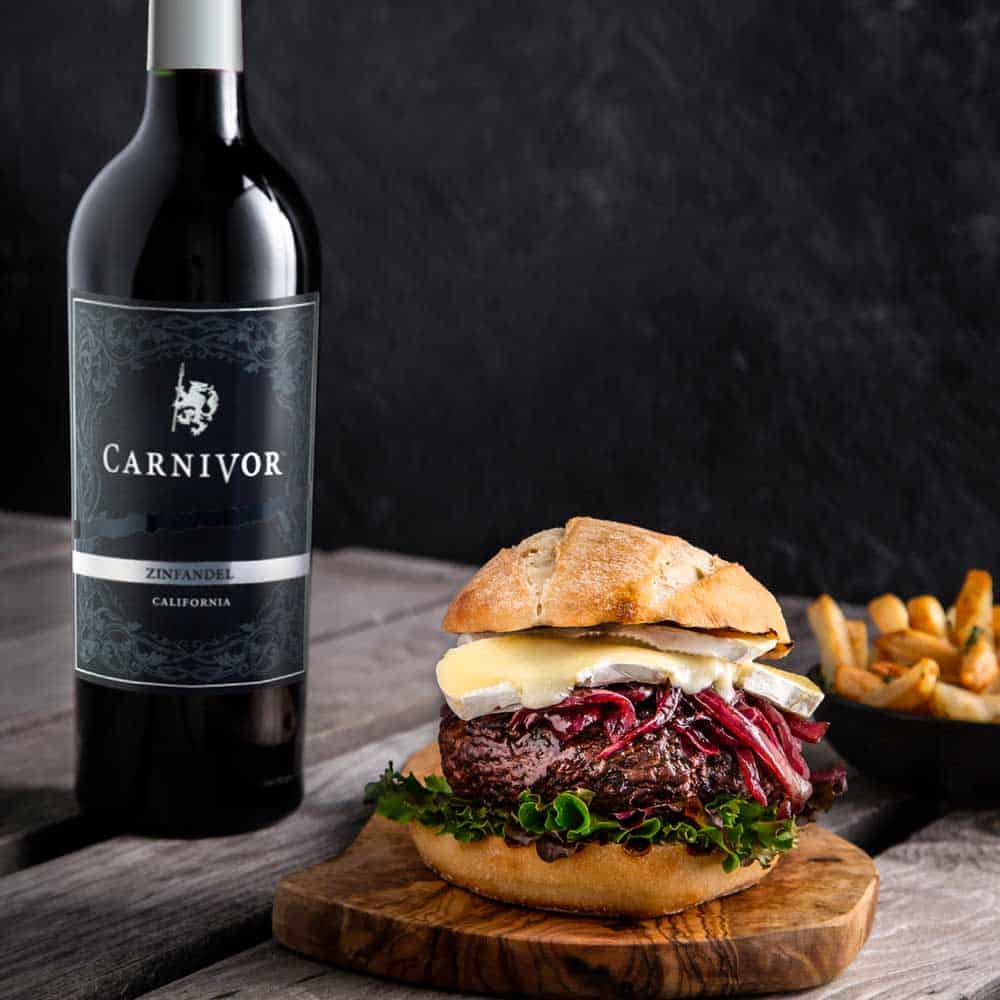 In a large, heavy skillet over medium heat, warm the oil. Add the onions and sugar and sauté until the onions are very soft, about 15 minutes, stirring occasionally. Pour in the cabernet and vinegar and cook until almost evaporated, 13 to 14 minutes, stirring occasionally. Season with ½ teaspoon salt. Keep warm until ready to serve.
Butter both sides of each bread slice.
Mix the ground chuck, 1 teaspoon salt, and ½ teaspoon pepper, and then gently form four patties of equal size, each about 1 inch thick. With your thumb or the back of a spoon, make a shallow indentation about 1 inch wide in the center of the patties to prevent them from forming a dome as they cook. Refrigerate the patties until ready to grill.
Prepare the grill for direct cooking over medium-high heat (400° to 500°F).
Grill the patties over direct medium-high heat, with the lid closed, until cooked to medium doneness (160°F), 9 to 11 minutes, turning once. During the last minute of grilling time, place two slices of cheese on each patty to melt, and toast the bread over direct heat, turning once.
Build each burger on a bread slice with a patty, red onion jam, a generous grinding of pepper, and the remaining bread slice. Serve warm.