Marinated Short Ribs
2 large cloves of garlic – minced
1-inch cube of ginger – minced
1 cup light soy sauce
1⁄2 cup of brown sugar
1⁄4 cup mirin
1 Tbsp sesame oil
4 lbs Korean-style short ribs (about 1/3-inch thick)
Winter Slaw
2 lbs Brussels sprouts – thinly sliced
2 carrots – thinly sliced
1⁄2 head of red cabbage – thinly sliced
2 green onions – thinly sliced
1 lime – juiced
1 clove garlic – minced
1 tbsp – apple cider vinegar
2 tbsp brown sugar
2 tbsp sesame oil
1 tbsp olive oil
1 tbsp Dijon mustard
2 tbsp pumpkin seeds for garnish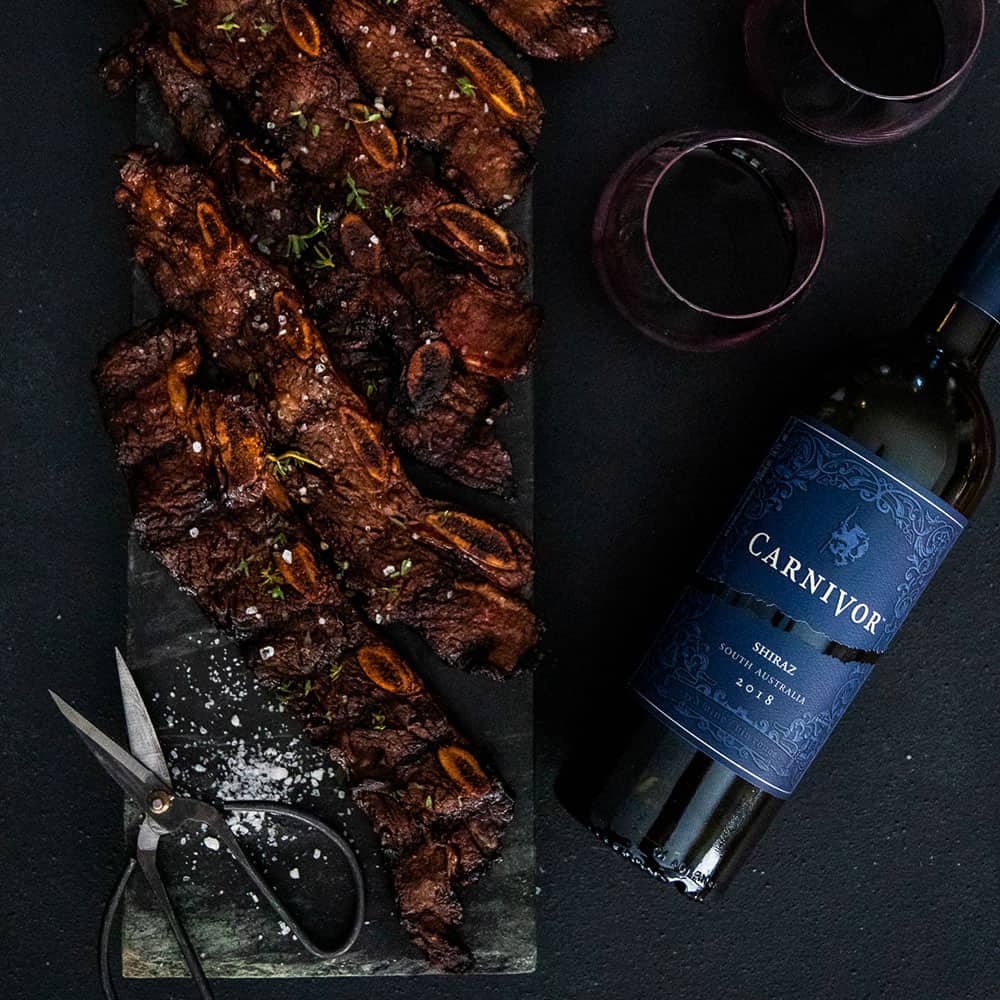 Short Rib Marinade
In a medium bowl, mix together garlic, ginger, soy sauce, brown sugar, mirin* and sesame oil. *Mirin — in case you're not familiar — is used in Japanese cuisine. It's similar to rice wine but has a lower alcohol content and is higher in sugar. You can find it in the Asian section of most grocery stores, but if you can't find it you can substitute with rice wine vinegar or white wine vinegar.
Add mixture to an extra-large Ziplock bag with the ribs. Remove all air and let sit for a minimum of 1 hour or overnight for best results.
Winter Slaw
Thinly slice the Brussels sprouts, carrots, red cabbage, and green onions. Set aside in a large bowl.
In a separate bowl, add lime juice, minced garlic, apple cider vinegar, brown sugar, sesame oil, olive oil and Dijon mustard; mix to create slaw dressing. Pour over sliced vegetables.
Toss together vegetables and dressing. Cover and refrigerate. Tip: you can prepare the slaw the night before to save on preparation time.
Garnish with pumpkin seeds immediately before serving.
Grilling
Take your marinated ribs out of the fridge one hour before grilling to allow the meat to come to room temperature. Fun fact: your meat will cook better this way! It allows the meat to cook more evenly.
While your grill is OFF and COOL, wipe it with oil (try to use a cooking oil like canola versus olive oil, which has a lower burning temperature).
Heat your grill — and get it HOT… and I mean super-hot (at least 450 F). You want to hear that sizzle when you begin grilling your ribs. Remember that this is only a 10-minute cook, so we'll need that heat!
When you can hear the grill sizzling, place the short ribs. Cook for 3 minutes per side for a total of 6 minutes (max 10 minutes). Remove from heat.
Allow ribs to rest for 5 minutes. Garnish your winter slaw while the ribs are resting.
Serve with the slaw and enjoy with Carnivor Shiraz!