Marinade
1⁄4 cup low-sodium soy sauce
2 tablespoons red wine vinegar
1 tablespoon packed dark brown sugar
1 tablespoon grated fresh ginger
1 garlic clove, minced or pushed through a press
4 Vegetable oil
Ingredients
4 bone-in pork loin chops, each about 8 ounces and 1 inch thick, trimmed of excess fat
4 firm but ripe plums, about 1 pound total, each cut in half
2 garlic cloves, minced or pushed through a press
1 cup Carnivor Shiraz
¾ cup low-sodium beef broth
1/3 cup plum jam or preserves
2 teaspoons red wine vinegar
1 sprig fresh rosemary, about 6 inches long
1 ½ teaspoons cold unsalted butter
Kosher salt
Freshly ground black pepper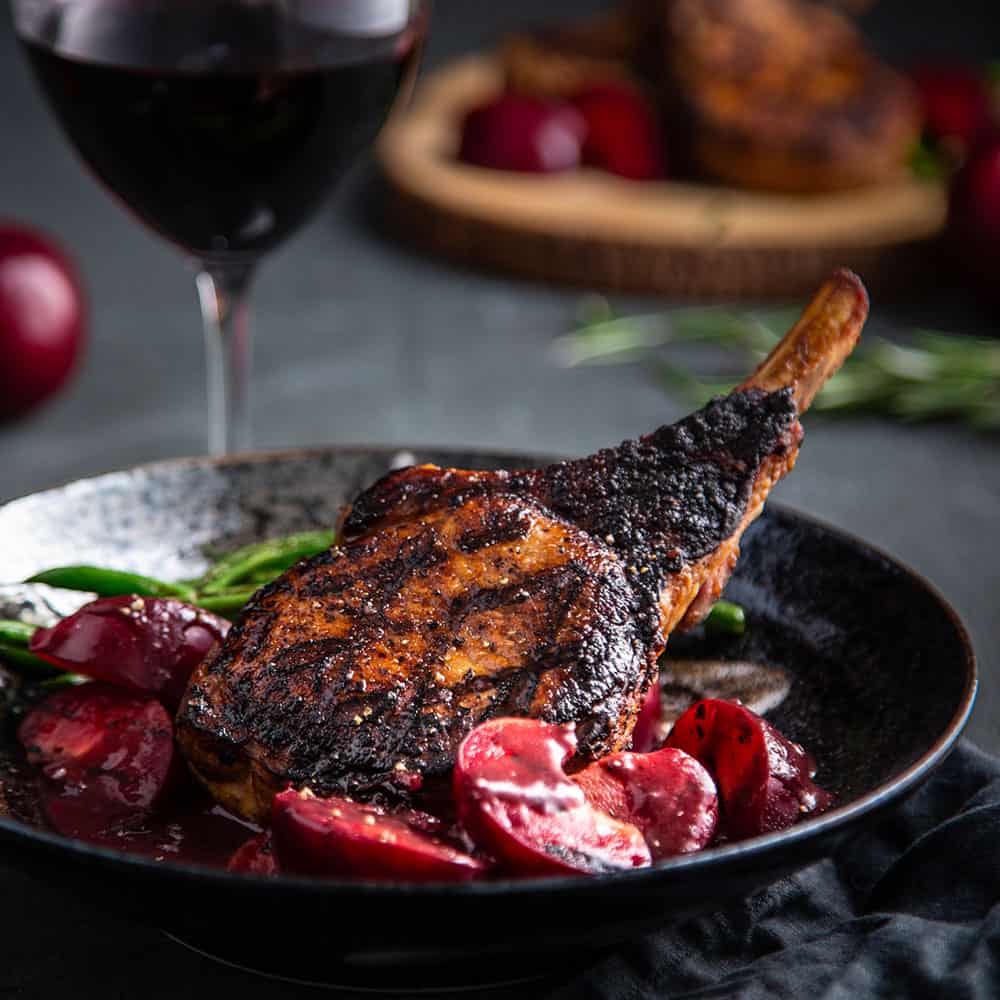 Whisk the marinade ingredients, including 3 tablespoons oil. Place the pork chops in a large, resealable plastic bag and pour in the marinade. Press the air out of the bag and seal tightly. Turn the bag to distribute the marinade, place in a bowl, and refrigerate for 2 to 4 hours, turning occasionally.
Prepare the grill for direct cooking over medium heat (350° to 450°F).
Lightly brush the plums on both sides with oil. Grill them over direct medium heat, with the lid closed, until they begin to soften, 4 to 8 minutes, turning once (the cooking time will vary depending on the ripeness of the plums). Remove from the grill and cut them into ¼ -inch slices.
Remove the chops from the bag and allow them to stand at room temperature for 15 to 30 minutes before grilling. Discard the marinade.
In a saucepan over medium-high heat, warm 2 teaspoons oil. Add the garlic and sauté until fragrant, about 1 minute. Add the wine and bring to a boil. Boil rapidly until it is reduced to ¼ cup, 7 to 8 minutes. Add the broth, return to a boil, and cook until the mixture is again reduced to ¼ cup, 8 to 9 minutes. Stir in the jam, vinegar, and rosemary sprig, reduce the heat to medium-low, and simmer until slightly thickened, about 3 minutes, stirring occasionally. Remove from the heat and discard the rosemary. Add the butter and swirl until melted. Season with ¼ teaspoon salt and 1/8 teaspoon pepper, add the plums, and set aside.
Lightly season the chops on both sides with salt and pepper. Grill them over direct medium heat, with the lid closed,until they are still slightly pink in the center, 8 to 10 minutes, turning once or twice. Remove from the grill and let rest for 3 to 5 minutes. Serve warm with the roasted plums.