Steak & Potatoes
1 X 1 1/2 -inch thick cut porterhouse steak, at room temperature
2 ½ pounds baby (or fingerling) potatoes
1 tablespoon fresh rosemary leaves
1 tablespoon fresh thyme leaves
4 garlic cloves
Olive oil
Sea salt and freshly cracked black pepper
1 X ball of fresh burrata
Basil Vinaigrette
1 shallot, peeled and roughly chopped
1 garlic clove, roughly chopped
2 cups packed fresh basil leaves
Zest of 1 lemon
Juice of ½ a lemon
¼ teaspoon dried red chili flakes
1 tablespoon red wine vinegar
½ cup extra virgin olive oil
Sea salt and cracked black pepper
1 X bottle Carnivor Shiraz (for warmth & deliciousness)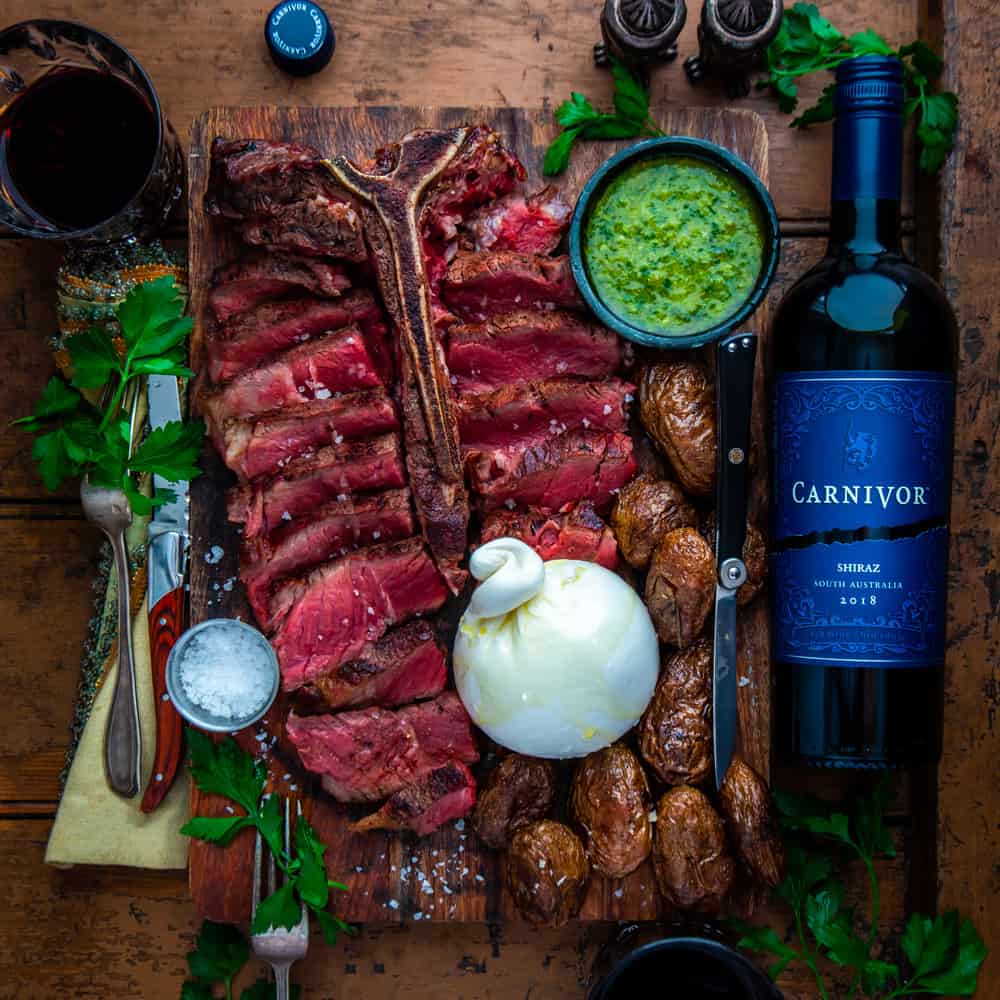 Preheat a grill to 450 degrees F.
2Grab a large cast iron pan, and place the potatoes in it. Drizzle the potatoes all over with olive oil, then add the rosemary, thyme, and garlic, and season with sea salt and freshly cracked black pepper. Give the pan a good mix, then transfer to the preheated grill. Grill for 25 – 30 minutes, or until the potatoes are cooked through and beautifully crispy.
Meanwhile, grab a high-powered blender. Combine all of the vinaigrette ingredients and pulse until thick and creamy. Easy peasy. Done.
Steak time. Drizzle the steak with a bit of olive oil, then season liberally with sea salt and freshly cracked black pepper. Transfer to the grill and cook to desired doneness (medium rare, or 135 degrees F using a meat thermometer is best here). After removing the steak from the grill, let the beef rest for 6 – 8 minutes before carving.
Serve your beautiful porterhouse steak and potatoes with creamy burrata and basil vinaigrette. Cold weather happiness. Every Season Is Grilling Season.