Burger Patties
1 ½ pounds ground chuck
1 ½ pounds ground sirloin
Sea salt & freshly cracked black pepper
8 slices gruyere cheese
Garlic, Thyme, and Cabernet Sauvignon Mushrooms
1 tablespoon butter
1 tablespoon olive oil
4 garlic cloves, minced
1 tablespoon fresh thyme leaves, chopped
6 cups sliced mixed mushrooms (a combination of your favourite mushrooms work best!)
½ cup Carnivor Cabernet Sauvignon
Sea salt and freshly cracked black pepper
Special Sauce
¾ cup mayo
2 tablespoons Dijon mustard
2 tablespoons ketchup
1 tablespoon fresh squeezed lemon juice
2 tablespoons finely diced dill pickles
1 garlic clove, minced
½ cup caramelized onions
Sea salt, to taste
To Build
16 slices of bacon, cooked until golden and crispy
2 tomatoes, sliced
1 large red onion, sliced
8 burger-sized lettuce leaves
8 brioche buns, split and toasted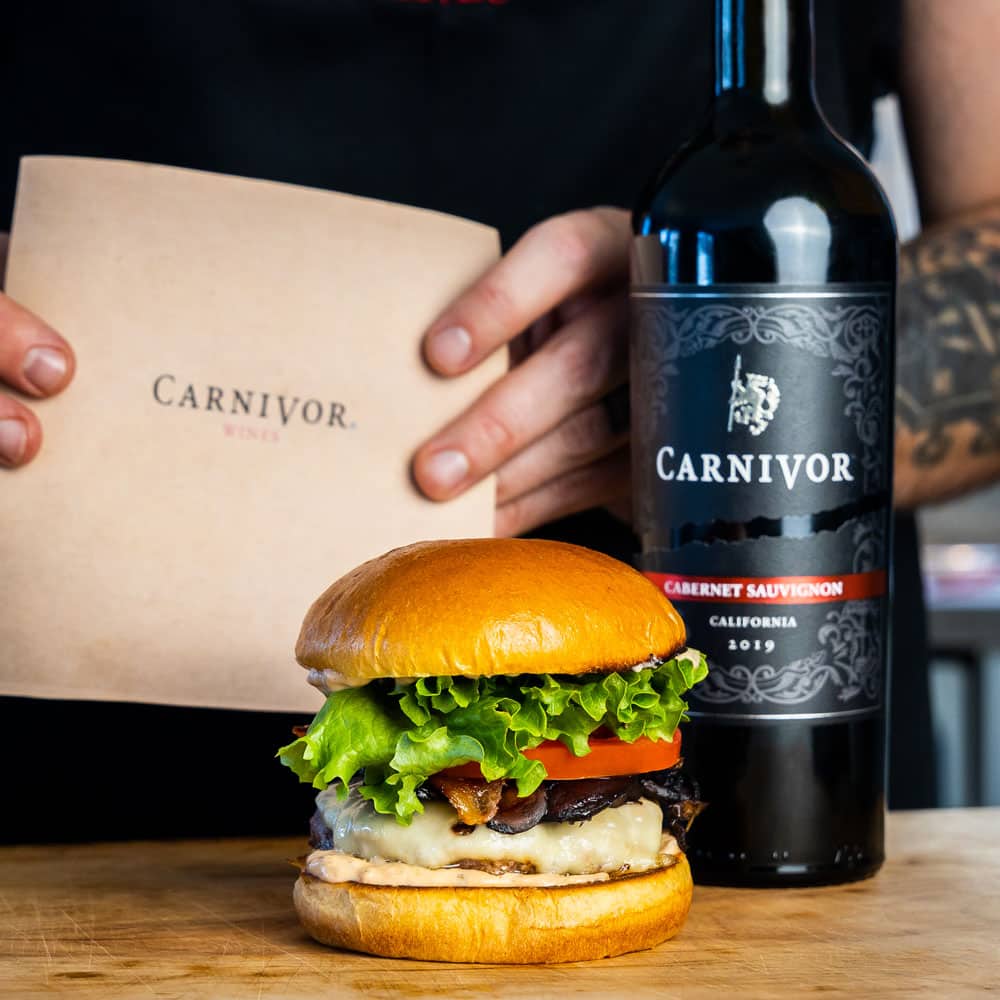 First, prepare your mushrooms. Heat a large skillet over medium-heat, and melt your butter and olive oil together. When melted, add your mushrooms, thyme, and a pinch of salt, and cook until the mushrooms start to caramelize and become golden, about 8 – 10 minutes. Add your garlic and cook for 30 seconds, then pour in the Carnivor Cabernet Sauvignon and cook until glossy and thickened, about 5 – 6 minutes. Set aside.
Grab a large bowl and combine your chuck and sirloin. Using your Carnivor Burger Press, mold and shape your patties, seasoning well on both sides with sea salt and cracked black pepper. Place in the fridge to firm up for 20 minutes while you crack on with the rest of your ingredients.
Next, combine all of your special sauce ingredients in a bowl, mix well, and season to taste with sea salt. Cover and chill in the fridge. Note! This can be done in advance and kept in an airtight container in the fridge for a couple days. Perfect.
Heat a large, high-sided skillet over medium heat and pour in your oil. When the oil is shimmering, and working in batches as necessary, cook your burgers for 4 – 5 minutes per side until cooked through to medium rare doneness (cook longer if you prefer your burgers a little more well done). After you flip your burgers, add a slice of cheese to each for melted perfection. Awesome.
Build your burgers on toasted brioche buns with a generous portion of special sauce, a cheeseburger, a heaping handful of Red Wine Mushrooms, and all your favorite extras. Serve immediately with a glass of Carnivor Cabernet Sauvignon. Delicious!